If I had to hang my hat on one theme about which I've written the most in my (ahem) nearly 2 decades of food writing, it's Northwest ingredients. Celebration of foods that are grown in my backyard, that have been part of my life since I was a little kid, it's a thrill when your backyard is one so bounteous as this one. Some items are pretty famously linked to the region, things like salmon, apples, oysters, foods that get a lot of attention when the national spotlight is shown on the Northwest by way of cookbooks and articles. Others are less so. Which is why in my Northwest Homegrown Cookbook series
I kicked off with Crab, followed by Stone Fruit. Instead of Salmon (which came later in the series) followed by Berries (which hasn't happened, yet).
I figured that if you asked even a Seattleite to list the key foods for which Washington state is a top grower nationally, I figured it might be a while before they got to "peaches" or "cherries." But I didn't want to write a book just about either peaches or cherries. They and their other pitted brethren–apricots, nectarines, plums–share common heritage, sweetness, form and other characteristics that make them a delightful and delicious group to consider as a whole.
Then came naming the book. Stone Fruits is by no means a title so enchanting the books nearly jump into the hands of customers. It doesn't elicit the kind of visceral response that, say, words like "chocolate," "cupcakes" or "bacon" might. Stone, of course, refers to the fact that the fruits all have a similar pit–called a "stone" in Anglo parlance. I could have called the cookbook "Drupes," another term that references the fruits' slightly larger family, which includes almonds. But that certainly wasn't a consumer-ready improvement. "Soft fruits" is another term used in the industry, to readily contrast these fruits with firmer apples and pears. We joked about titles the likes of "Juicy Fruits" and "Sexy Fruits," to no avail.
I didn't want to call it "Peaches (and those other fruits)." Nor just offer the laundry list of the five types.
So Stone Fruits it is. And perhaps it's little surprise that of the four books in that series, Stone Fruits is the slower seller of them all. It's kind of like the blonde, cute, generous girl that everyone likes having the name Gladys. A most unfortunately example of judging a book by its title. A stone fruit cobbler mixing up plums, peaches and apricots is a mighty delicious proposition. But it probably would be easily oversold by a classic cherry cobbler.
Give that charming girl named Gladys a chance. When you see "stone fruits" on a menu, don't think "stone soup." These are the fruits that will burst in your mouth and drip down your chin. Fruits that make pies and other treats so good they make you cry. Not only because they're so delicious. But because they're also so fleeting. Tree-ripened, honestly seasonal fruits in this chummy group don't stick around for long. Indulge while you can.
I had the good fortune of coming home from a talk a couple of weeks ago with a couple pounds of wonderful Northwest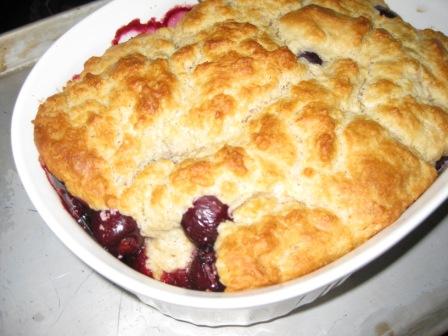 cherries. Tim Mar was there, had brought them for us to snack on and there was a good bit left over. Tim's co-owner of ChefShop.com, known for its amazing world pantry of spices/chocolates/nuts, etc. But also venturing into the realm of fresh seasonal foods on special occasions. Occasions as special as the local cherry season, during which they ship off boxes of the fruit to all corners of the globe. It was quite a treat to have this bounty. After nibbling more than a few handfuls, I set to showcasing them in a simple dessert. Cherry cobbler won the coin toss.
I don't necessarily have a favorite go-to recipe for cobbler. To be perfectly honest, we just don't eat dessert around here very often. So I headed over to www.epicurious.com and found a recipe that lead me to this incarnation. Tasty. And to fully embrace the joys of all stone fruits, I'd happily recreate this recipe using a mix of them all, pitted and chopped to relatively equal sized pieces meeting that 6-cup quantity.
Stone Fruit Cobbler
Filling
6 cups pitted and halved cherries and/or pitted and chopped peaches, nectarines, apricots and plums
1/2 cup sugar, or to taste (if the fruits are on the tart side add more)
2 tablespoons tapioca
2 tablespoons Frangelico, Amaretto or Grand Marnier
Biscuit Topping
1 cup all-purpose flour
5 tablespoons cold unsalted butter, cut into pieces
2 tablespoons fine cornmeal
2 tablespoons sugar
1 1/2 teaspoons baking powder
1/2 teaspoon salt
1/2 cup milk
1/2 teaspoon pure vanilla extract
Preheat the oven to 375 degrees F.
Stir together the stone fruits in a large bowl. Sprinkle the sugar, tapioca, and liqueur over and stir well to mix. Set the bowl aside for 30 minutes, stirring occasionally. Transfer the fruit mixture (with its juices) to a 2-quart baking dish.
Combine the flour, butter, cornmeal, sugar, baking powder and salt in a food processor and pulse until the butter is finely chopped and the mixture has a coarse sandy texture. Transfer the mixture to a bowl and add the milk and vanilla, stirring just until the dough is cohesive. Top the fruit with randomly placed spoonfuls of the dough, leaving some open spots where the fruit is exposed.
Set the baking dish on a rimmed baking sheet just in case there are any drips that need catching. Bake until the biscuit topping is nicely browned and the fruit juices are bubbling up around the edge of the dish, 45 minutes to 1 hour. Set aside to cool to, or near, room temperature before serving.
Makes about 8 servings.