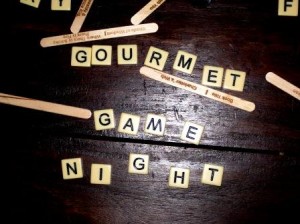 It's not that hard to come up with a good excuse to throw a party. We do it pretty often at this house….not just for birthdays, anniversaries, graduations, holidays. But we celebrate made-up holidays like Open That Bottle Night. Or have friends over to see the blooms on our tree peony, and have them stay for dinner. And I threw my husband a 33 1/3 birthday, since his traditional December birth dates comes as such a distracted, chaotic time of the year. Anything for a party!!
So with the release of my latest cookbook looming, I figured that was a no-brainer excuse to gather friends, family, colleagues to help me celebrate. We did just that last week at the book release party I threw for myself. I was so pleased and honored that so many folks came to share a cup of cheer (in the form of Washington wine). Seventy or eighty passed through The Tasting Room, where manager Jen and colleague Sarah were wonderful hosts. I've known Jen for a decade or more, from an early connection via the Washington Wine Commission. She still has her toes in Washington Wine, as GM and co-founder of The Tasting Room in Seattle's Pike Place Market (with a second location in Yakima, which I haven't made it to yet). I'm a big fan of Washington wines, so having the party in this cool space and sipping local wines was an easy draw. BUT, better yet — Jen's a big fan of games! She has a growing collection of board games on hand at all times, so customers enjoying their glass of chenin blanc or syrah can be playing a game of Rummikub, Connect 4 or Jenga while they're at it! It made The Tasting Room about the best place to celebrate the launch of Gourmet Game Night.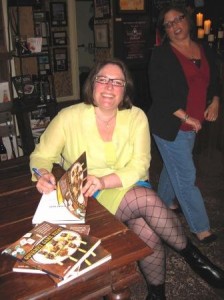 Of course it wouldn't be a cookbook release without some samples of recipes from the book. Dear friend Susan Volland came to the rescue and put together the food for the evening, it was an up-to-eyeballs week for me and cooking volumes just wasn't in the cards for me. We chose a menu of easy-to-transport items that offered full-flavor bites at room temperature. It was her bright idea to serve them on inexpensive (i.e. disposable) checkers and backgammon boards, and Chinese checkers trays. Fun. The Mole Flank Steak with Pickled Peppers went fast! I rub the flank steak with an easy wet paste of cocoa powder, sesame seeds, chile powders, garlic, then grill it. The steak is sliced and wrapped around pickled peppers to thread onto skewers for serving. Lots of flavor in one little bite!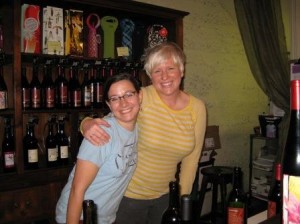 The same can be said for the more diminutive Pickled Grape and Blue Cheese Skewers. Also very easy, red grapes swim for a spell (about 2 hours ideally) in a marinade of red wine vinegar, spices, bay leaf. Then the grapes are drained and skewered on a small pick with a square of blue cheese. The bright sweet-acid-spicy flavor of the grape contrasts beautifully with the rich creamy character of the cheese, a fun little nibble.
And a crowd favorite was the brutally simple Green Pea and Mint Spread with Crispy Pancetta. The vivid color and fresh flavor of the pea-mint spread is immediately appealing, with that crisp, decadent accent of pancetta to finish. I serve it on wedges of pita bread in the book, but the versatile spread could be served on toasted baguette slices, crackers, or even in little hollowed-out cherry tomatoes.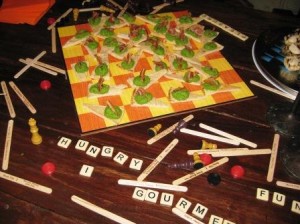 Lastly, of course there had to be a bite of something sweet. And who can say 'no' to chocolate? I figured the Chocolate Tartlets with Brandy Cream would be a crowd-pleaser. Though prepared tartlet shells are available in more and more store and online, what I fell in love with while working on this book was these phyllo tartlet shells. They're pre-baked and ready to go, so you could use them for countless things. Spoon a bit of my orange-walnut chicken salad into the shells, or spoon the wild mushroom tapenade meant for crostini into these delicate little cups instead. They're ideal for the chocolate tartlets too, the rich chocolate topped with a dollop of brandy-embellished cream (plain old whipped cream can be used, too).
On the wine front, I chose four different wines for guests to enjoy that night: the Storm King red blend from Camaraderie Cellars, Jester's Red and chenin blanc from Harlequin, and a wonderful dry riesling from Naches Heights Vineyard.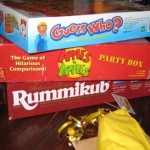 Great wine, wonderful friends, an enchanting venue, games, good food…..what more could you ask for? I know I couldn't have asked for more from an evening to celebrate the launch of Gourmet Game Night!
Here's to your own dose of fun-friends-wine-games-and-good-times just waiting to be enjoyed! No need to dream up an excuse. Any night's a good night for game night.